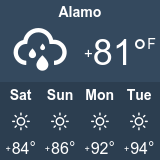 We're Open!
Please reserve ahead of time. We are following CDC guidelines and doing extra cleaning/precautions to ensure your safety. Most birding hotspots are open, so we cannot wait to see you again soon!
*Watch the Netflix documentary "Birders" to see our story at Alamo Inn B&B, Gear & Tours featured, you don't want to miss this!
Welcome to Alamo Inn B&B, Gear, & Tours
Whether you're coming to stay with us for the birds or butterflies, or just for our comfortable atmosphere while you're away on business, we strive to make your experience a great one.
Since 1999, we have been a South Texas landmark hide-away for guests to enjoy beautiful sunsets, great birds and butterflies, and our friendly Tex-Mex culture where time moves slower. Located close to the McAllen Airport, in the center of the richest birding area in the U.S., we are the perfect spot for bird watchers.
Since Covid due to contact concerns of many guests, we reluctantly no longer offer breakfast (except for tour groups). Fortunately our area has a great many options for breakfasts and other meals, including El Dorado restaurant across the street (20 yards), for great Tex-Mex and American foods served 7 am to 9:30 pm, 7 days a week.
Our restored historic 1919 Alamo Land and Sugar Company building on the original town square of Alamo, offers beautiful suites furnished with family antiques, private en suite bathrooms, kitchenettes, and queen beds. Our restored 1970s Wesmor garden suites building, located close by, also on the town square, offers suites with full kitchens, private en suite bathrooms, and king beds.
With the hospitality and atmosphere of a traditional southern bed and breakfast, we offer our guests an experience that in today's world is truly special. Come enjoy tropical deep south Texas at the Alamo Inn B&B, Gear, & Tours.
Feel free to learn more about us through our website, and reserve a suite when you're ready for a fun trip you won't soon forget!